Bidelman Auditory Cognitive Neuroscience Lab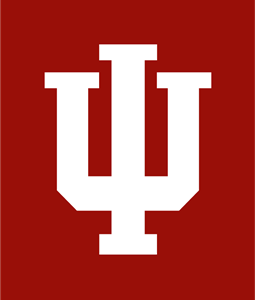 People
Principal Investigator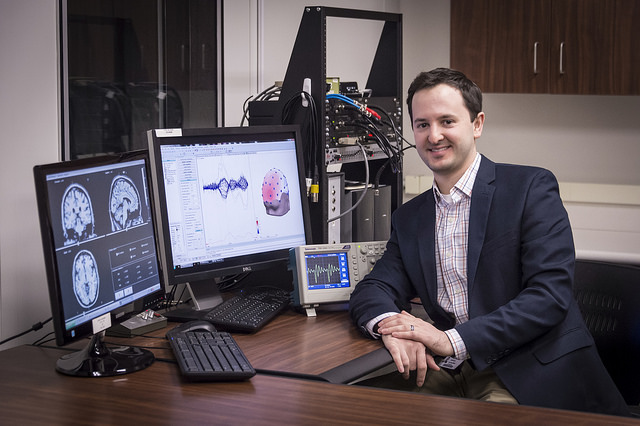 Gavin M. Bidelman, PhD (CV) (PubMed) (Google Scholar) (Research Gate) is an auditory cognitive neuroscientist who uses neuroimaging and data science tools (EEG/ERPs, psychophysics, computational modeling, machine learning) to investigate foundational properties of auditory perception and cognition. The work includes elements of both basic research and clinically motivated inquiry. Lab studies proceed on three main fronts: (1) understanding the neurocomputations involved in the perception-cognition and novel learning of speech and musical sounds—with current emphasis on auditory categorization; (2) a neuroethological approach characterizing the upper bounds of brain plasticity via study of listeners with extraordinary auditory expertise (e.g., musicians, bilinguals); and translational work (3) examining changes in neurophysiological coding across the lifespan in both normal and clinical populations (hard of hearing, mild cognitive impairment). The lab is funded by the NIH/NIDCD.  
PhD students   
 

 

Jessica MacLean,MM, MT-BC, joined the lab in Fall 2022 as a dual PhD student in SLHS and Neuroscience at Indiana University. She holds a Master of Music in Music Therapy with Undergraduate Equivalency (University of Miami) and a Bachelor of Science in Music (violin) with an Outside Field in Neuroscience (Indiana University). Most recently, Jessica served as core project manager for a multi-site R01 trial out of the IU School of Nursing in Indianapolis investigating biologic mechanisms of active music engagement in pediatric oncology (PI: Sheri Robb, PhD, MT-BC). She also worked as a research assistant in the Brainvolts Auditory Neuroscience Lab at Northwestern University (PI: Nina Kraus, PhD). Jessica's research interests include clinical applications of music for speech and language outcomes with a focus on gaining deeper understanding of the associated neural mechanisms.

 

 

 

 

Rose Rizzi is a dual PhD student in SLHS and Neuroscience at Indiana University. She earned her BS in Cognitive and Behavioral Neuroscience at Virginia Tech in 2020. Her research interests include neuroplasticity, neurostimulation, and auditory attention.
| | |
| --- | --- |
| | Jane Brown is a PhD student in Communication Sciences and Disorders with a Neuroscience focus at the Unversity of Memphis. Originally from Baltimore, Maryland, Jane earned her BA in Biopsychology, Cognition, and Neuroscience from the University of Michigan in 2017. Before coming to Memphis, she spent two years in the Avian Behavioral Neuroscience Lab at the University of Maryland, where she studied auditory perception in songbirds. Her research interests include psychoacoustics and music-based neuroplasticity, and her current work is investigating the effects of familiarity in background music on speech listening.  Email: jbrown64@memphis.edu |
AuD students  
| | |
| --- | --- |
| | Alexandria Sisson, B.S., joined the lab in Fall 2022 as a first year AuD student at Indiana University. She holds a Bachelor of Science in Communication Disorders and Sciences and Minor in Neuroscience from Eastern Illinois University. Most recently, Alexandria served as a research assistant in the Hearing Aid Laboratory at Northwestern University (PI: Pam Souza, PhD), as well as the Auditory Research Laboratory at Northwestern University (PI: Sumitrajit Dhar, PhD., Mary Meskan, PhD.). Alexandria's research interests include cognitive decline and language perception, neural processing of speech and language, and auditory psychophysics. |
Undergraduate students
| | |
| --- | --- |
| | Jack Stirn joined the lab in Fall 2022 as an undergraduate student studying Neuroscience and Linguistics. Jack is in the Cox Research Scholars program at IU. His research interests include psycholinguistics, pragmatics, and speech perception.  |
| | |
| --- | --- |
| | Elizabeth Drobny joined the lab in Spring 2023 as an undergraduate student studying Speech, Language and Hearing Sciences. Elizabeth is in the SLHS Honors Program at IU. Her research interests include the speech perception and the neural processing of speech. |
Lab Alumni
Brian Decker, AuD
Maddie Server, AuD
Kimberly Skubic, AuD
Fallon Bernard, AuD
Christine Sledge, AuD
Jesyin Lai, PhD (postdoc)
Jared Carter, PhD
Sara Momtaz, PhD
Caitlin Price, AuD, PhD (and postdoc)
Kelsey Mankel, PhD
Karen L. Bell , AuD, PhD (postdoc)
Rakib Al-Fahad, PhD (ECE)
Claire Pearson, AuD
Ashleigh Harrison, AuD
Gwyneth Lewis, PhD (postdoc)
Jessica Yoo
Lauren Sigley, AuD
Kate Rivers Allen, AuD
Ashley Anne Peeples, AuD
Lauren Bush, AuD
Alex Boudreaux, AuD
Jacob Barber, AuD
Francisco Lopez Caballero (visiting Fall 2018)
Mary Katherine Davis, AuD
Louise Powers, AuD
Bonnie Brown, AuD
Gelareh Faz, AuD
Anusha Yellamsetty, PhD
Claire McElwain, AuD
Victoria Heitzman, AuD
Jessany Knapp, AuD
Hyunjoo Yoo, PhD
Sungmin Lee, PhD
Shelley Traylor, AuD
Calli Dugas, AuD
Breya Walker, MA (Psych)
Pouya Bashivan, PhD (ECE)
Jill Lowther, AuD
Lauren Dexter, AuD
Megan Howell, AuD
Ameenuddin Khaja
Jon Schug, AuD
Jeremy Grall, PhD (music)